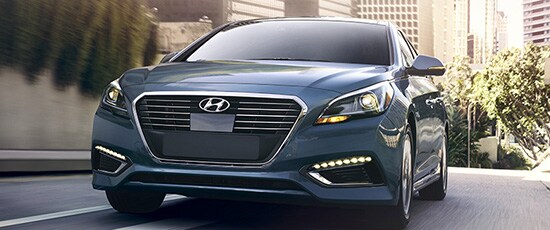 The Hyundai Sonata Plug-In Hybrid offers fuel efficiency and environmental benefits that alone make the car impressive. Most remarkably, though, the car provides these benefits without sacrificing power and performance. Here's a look at the kind of power and performance the Hyundai Sonata Plug-In Hybrid offers.
A Pair of Engines Built to Go the Distance
Under the hood of the Sonata Plug-In Hybrid are two engines that together will go the distance, however far that may be. There's a 50-kilowatt electric engine and a 2.0-liter GDI Atkinson Cycle DOHC Inline four-cylinder.
At 67 horsepower and 151 pound-feet of torque, the stats for the electric engine might not look impressive on paper. Once you're on the road, though, you won't be complaining that this engine is underpowered. Being an electric engine, its torque is instant and provides quicker initial acceleration than any gasoline engine can. Additionally, the horsepower is perfect for driving around town -- which is what the engine's electric-only range of 27 miles is designed for.
When more power is needed or the car's being driven at higher speeds, the 2.0-liter Atkinson four-cylinder automatically kicks in. In doing so, it adds 154 horsepower and 140 pound-feet of torque. Thus, the two engines combined produce 202 horsepower -- which is more than many comparable gas-only sedans.
Together, these two engines will carry the Sonata Plug-In Hybrid up to 590 miles, including over hills and down valleys thanks to the more-than-sufficient horsepower and torque.
Features That Extend Performance
The Sonata Plug-In Hybrid's performance isn't limited to what's under the hood. A well-curated collection of features keep both driver and passengers at east while in the car.
For the driver, an available 8-inch display with navigation and driver-assist features work to create a virtual copilot. The driver-assist features that are available include:
blind spot detection with rear cross-traffic alert
lane change assist
forward collision warning
lane departure warning
smart cruise control
rear parking sensors
These are in addition to a rearview camera, which comes standard.
For both driver and passengers, there are plenty of features that ensure the ride is comfortable. Just a few of the standard and available features are:
Apple CarPlay and Android Audio
dual automatic temperature controls
heated front and back seats
manual rear seat sun shades
a power panoramic sunroof
To top it all off, the cabin of the Sonata Plug-In Hybrid boasts more interior room than any other vehicle in its class.
Test Drive the Hyundai Sonata Plug-In Hybrid
If you're interested in a hybrid but don't want to sacrifice the driving experience, come and test drive the Hyundai Sonata Plug-In Hybrid at Hyundai West Allis. The dealership is located at 10611 W. Arthur Ave. in West Allis, which is just off Interstate 41. It takes minutes to get to the dealership from Glendale or Wauwatosa
At Hyundai West Allis, you'll find an excellent selection of pre-owned and new Hyundais, including many Sonata Plug-In Hybrids. For Hyundai West Allis is now part of the International Autos Group, which gives the dealership excellent access to inventory from throughout the region. Come and test drive the Sonata Plug-In Hybrids that are currently available. Feel their power and performance, and you'll see that getting a hybrid is no longer a sacrifice.