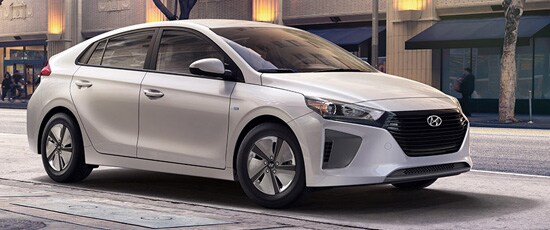 While Hyundai's compact vehicles are highly affordable, they offer much more than low price tags. Here's a look at what makes the Accent, Elantra, Veloster, Elantra GT and Iconiq Hybrid so special - and why even drivers who can afford high-priced options often still choose one of these Hyundai compact vehicles.
America's Best Warranty Offers Reassurance
To start with, all new Hyundai compact vehicles come with America's Best Warranty. This includes a:
5-year or 60,000–mile new vehicle limited warranty
7-year and unlimited–mile anti-perforation warranty
10-year or 100,000-mile powertrain limited warranty
lifetime and unlimited–mile hybrid battery warranty (for the Iconiq Hybrid)
No other compact vehicles can claim to have such excellent warranty coverage, because no other compact vehicles are Hyundais. Admittedly, warranty coverage isn't as captivating as leather upholstery, a moonroof or heated seats. It's often not what auto dealers lead off with when showcasing their vehicles. That's because most dealers aren't Hyundai, though.
When drivers bring their vehicles into Hyundai West Allis for a repair, they aren't thinking about how their car looks to passersby. They're thankful they have the best warranty coverage available in the country.
Robust Safety Features Let Owners Rest Easy
Importantly, Hyundai has prioritized safety in all compact vehicles. The exact standard and optional safety features vary from one model to the next, but every model comes with a robust airbag system and host of features that help keep everyone inside safe. From the Accent's driver-assist features to the Veloster's 5-star rating, safety permeates all of Hyundai's engineering and design work.
No matter which of Hyundai's compact vehicles you get, you can rest easy knowing that the driver and passengers are as safe as possible. Whether those people are you, your children or friends, know that they're in a well-designed car.
Many Available Features Provide Various Levels of Luxury
With this array of vehicles, small doesn't necessitate simple. The Accent, Elantra, Veloster, Elantra GT and Iconiq Hybrid all offer an array of standard and available features that will keep drivers and passengers more than pleased.
As just one example, consider the 2018 Elantra. The SE trim (which starts under $17,000) comes standard with a six–way adjustable driver's seat, Bluetooth hands-free phone system and 3.5–inch LCD instrument display. At higher trim levels, features like a 7–inch display, Apple CarPlay and Android Auto, leather upholstery and heated seats (including front and back) are available.
This is just a short list of some of the features that are available on one of Hyundai's compact vehicles. The number of features that are available across all these models is too long to list in one post. Suffice it to say, there are plenty of features to choose from even if you're getting a smaller car. There's even a hybrid option, the Iconiq Hybrid, if an electric engine is a feature you must have.
Test-Drive These Compact Vehicles
To see any or all of these Hyundai compact vehicles, come check them out at Hyundai West Allis. Formerly Arrow Hyundai, Hyundai West Allis is still located at 10611 W. Arthur Ave. in West Allis and easy to get to from Waukesha. The dealership is now part of the International Autos Group, though, which gives the staff here greater access to Hyundai vehicles.
Let the sales team at Hyundai West Allis show you these models, and you'll see that purchasing a compact Hyundai vehicle is not a compromise. They have everything other Hyundais have to offer, just in smaller forms.