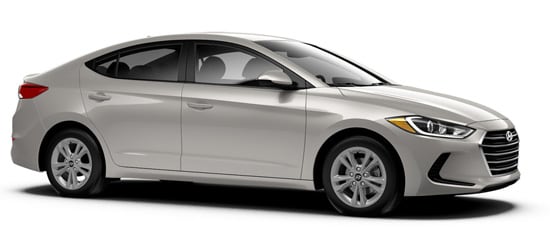 In 2017, Hyundai fully redesigned the Elantra, giving the model an upgraded look, more refined interior, and upgraded handling. The result was a high-functioning sedan that drivers throughout the Milwaukee area found easy to fall in love with. That said, there were some finishing touches here and there that were missing. But if it's those finishing touches you want, then it's the 2018 Hyundai Elantra SEL Sedan you should take a look at. The special trim level of the 2018 Hyundai Elantra SEL Sedan is a full package vehicle that offers the 21st-century tech and equipment you want in a modern vehicle. Just check out these three great reasons to consider this outstanding sedan:
3 Reasons to Consider the 2018 Hyundai Elantra SEL Sedan
An outfit of comfort
The 2018 Hyundai Elantra SEL Sedan is one of those vehicles you will love to sit in Milwaukee traffic in. This begins the moment you step into the vehicle and wrap your hands around the sedan's leather-wrapped steering wheel. The front driver and passenger seats, as well as the rear bucket seats, are accommodating and comforting with cloth materials that feel as though they belong in a higher-priced sedan. Hate the sound of road noise when you commute between Milwaukee and Brookfield or Glendale and New Berlin? The 2018 Elantra SEL has your interests in mind with a quiet cabin that remains largely free of wind and traffic noise and vibration, even when you're speeding down Wisconsin highways and byways.


Packed with technology
The 2018 Hyundai Elantra SEL Sedan takes what was before available as upgrade technologies and makes them standard. This starts with simple user-friendly tech like keyless entry with push-button start that makes fumbling for keys a thing of the past. But the tech standards don't end there. With this Elantra trim level, drivers get to enjoy safety technologies like blind-spot monitoring and rear cross-traffic alerts. Then there's also the entertainment tech features with Android Auto and Apple CarPlay for fast and seamless smartphone integration that allow things to be easily displayed on the vehicle's 7-inch touchscreen infotainment display.


A sedan for the bustling family and professional
This sedan's primary purpose might be as family transport, but the 2018 Hyundai Elantra SEL Sedan has plenty to offer when it comes to utility purposes. In the rear, you'll find an impressively large trunk featuring 14.4 cubic feet of storage, making it one of the best rear storage options in its class. Need a little extra space? Split and fold rear seats offer Elantra owners even more flexibility. And then for those day-to-day personal items, such as diaper bags, laptop cases, and extra drinks, there are plenty of cupholders, door storage options, and other compartments found throughout the sedan's interior.
To really understand the advantages of the 2018 Elantra SEL, you'll want to come down to Hyundai West Allis and test drive the vehicle for yourself. In addition to the new 2018 models, our dealership also has a variety of the current 2017 model years as well as 2016 trim levels. Take some time to see for yourself the difference in features, handling, and pricing. When you are ready, our friendly and experienced finance team will help walk you through the process and ensure you get the best loan terms for you and your budget.
Our Hyundai West Allis dealership is located at 10611 W. Arthur Ave., conveniently located just a short drive away from Milwaukee area suburbs like Brookfield, Glendale, and New Berlin.