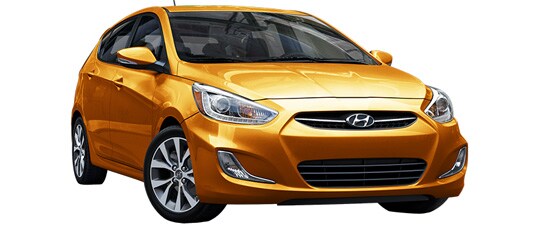 The 2017 Hyundai Accent has plenty to love. Its 137 horsepower, 37 highway miles per gallon and 21.2 cubic feet of cargo room outpace many rivals. None of these, however, is the Accent's most impressive feature. The best part about owning a 2017 Hyundai Accent is just how affordable the car is.
An Affordably Priced Car
Both the sedan and hatchback versions of the 2017 Hyundai Accent are affordably priced. The SE Sedan has a starting MSRP of $14,745, and the SE Hatchback starts at $14,995. Even before any available discounts, these cars are in a sub-$15,000 price range that few new vehicles ever reach.
Of course, high trim levels are available for slightly more. Even the Value Edition Sedan and Sport Hatchback have MSRPs below $17,500. There are a few more vehicles available below $17,500, but they usually don't include the list of features that the Value Edition and Sport Accent come with, though. Bluetooth connectivity, 16-inch alloy wheels and an Active ECO System are just some of the highlights that these trims come with.
A Fuel-Efficient Car
At the gas station, the 2017 Hyundai Accent is one of the most fuel-efficient non-electric cars. All trims have an EPA-estimated combined fuel economy of 30 miles per gallon or higher, and with a manual transmission, the Accent gets up to 37 miles per gallon on the highway. (An automatic transmission reduces fuel efficiency by 1 mile per gallon.)
With this fuel economy, the Accent is more than capable of getting drivers to work or school. The Department of Transportation estimates the average one-way commute to be about 15 miles. Thus, the Accent can go to and from work all week, and there'll still be a half-tank left over for running errands and going places on the weekend.
A Reliable Car
When it comes to repairs, the 2017 Hyundai Accent is one reliable car. Drivers, however, don't have to just take Hyundai's word that the car's reliable or put their trust in third-party reliability estimates. As is true with all its vehicles, Hyundai stands behind every new Accent with America's Best Warranty. Every new Accent comes with a:
10-year/100,000-mile powertrain warranty
7-year anti-perforation warranty
5-year/60,000-mile limited warranty
While it's unlikely that a new Accent will need significant repair work, Hyundai is always ready to take care of any covered repairs. Drivers can rest easy knowing they don't have to worry as much about a potential repair their car might need while it's under warranty.
Get a Good Deal
With a low cost to purchase, run and maintain, the 2017 Hyundai Accent is an excellent car for drivers who want something that's affordable. To get the best possible deal on a new Accent in the Milwaukee area, come from Waukesha, Brookfield or another nearby community to Hyundai West Allis at 10611 W. Arthur Ave., West Allis, WI 53227.
Hyundai West Allis is now part of the International Autos Group, which is a collection of 22 dealerships throughout Minnesota, Wisconsin, Illinois and Indiana. With the resources of such a large organization, Hyundai West Allis is able to get excellent deals on both used and new Hyundai vehicles - and they can pass those deals onto their customers. Come and see what kind of deal you can get for a new Hyundai Accent.