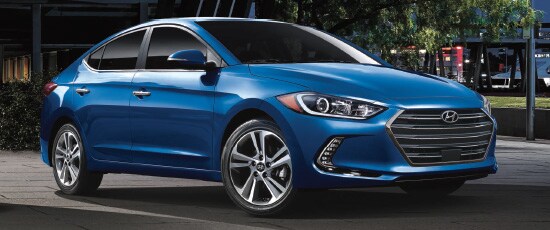 There are many reasons why people choose to drive Hyundai vehicles, one of which is the automaker's focus on fuel efficiency. Hyundai has a long history of producing fuel-efficient vehicles, and the company continues to make advancements in this area. Here's a look at just some of the ways Hyundai has pursued fuel efficiency and how the company continues to do so.
Making Regular Advancements in Fuel-Efficient Technology
The foundation of Hyundai's pursuit toward fuel-efficient vehicles is the company's research and development divisions. R&D engineers are constantly looking for ways to make Hyundai vehicles go farther on less fuel, and their search isn't limited to only producing more fuel-efficient motors (although that's certainly a large part of their work).
As an example of how Hyundai's engineers take into account how each aspect of a Hyundai vehicle impacts fuel efficiency, consider the 2017 Hyundai Elantra. The Elantra was overhauled for this model year, receiving an updated engine that could reach 33 combined miles per gallon. Compared to the 2016 model, the 2017 version also included:
a wider and longer body that reduced drag
a revised powertrain that increased mechanical performance
more high-strength steel that reduced overall weight
These are just a few examples of how engineer's improved the 2017 Elantra's fuel efficiency. Hyundai's research and development engineers are constantly searching for improvements large and small that will increase the fuel efficiency of Hyundai vehicles.
Offering Many Different Fuel-Efficient Hyundai Vehicles
Hyundai doesn't limit its fuel-efficient pursuits to a specific type of vehicle. While offering hybrid, electric and fuel cell models, Hyundai also has plenty of sedans, crossovers and SUVs that run on conventional combustion engines. These, like all vehicles, are as efficient as possible.
For instance, consider the 2017 Hyundai Tucson. A five-seat crossover SUV, the Tucson has plenty of room and more than enough power for everyday driving. At the same time, its engine gets up to 30 miles per gallon on the highway. That not only outperforms most crossovers and SUVs, but it even rivals some mid- and full-sized sedans' fuel economies.
Moving Toward the Future of Fuel
Hyundai's search for ways to make every model more fuel efficient doesn't stop at making current technology more efficient. Hyundai has taken an active role in pursuing new technologies that don't rely on fossil fuels, and the company even leads the industry in some ways.
Models like the 2018 Sonata Plug-In Hybrid, 2018 Iconiq Plug-In Hybrid, 2017 Iconiq Electric and 2017 Tucson Fuel Cell show the forward-thinking solutions Hyundai has in development.
Keeping Hyundai Vehicles Running Well
While the pursuit of fuel efficiency begins in research and development, it ends in Hyundai Service Centers. Throughout the country, Hyundai has service centers where highly skilled technicians look after Hyundai vehicles. These technicians know exactly how to care for Hyundais, and their work helps keep vehicles running efficiently for many years after they leave the factory.
Own a Fuel-Efficient Hyundai Vehicle
To learn more about how Hyundai is constantly improving fuel efficiency and get yourself in the driver's seat of a fuel-efficient Hyundai, come to Hyundai West Allis.
Formerly Arrow Hyundai, Hyundai West Allis is now a member of the International Autos Group. The dealership is still at 10611 W. Arthur Ave. in West Allis, which is just a short drive from Sussex or Brookfield. Hyundai West Allis now has more resources for its sales and service teams, though. Come talk with them, and they'll help you either find a fuel-efficient Hyundai you like or keep your current Hyundai running well.