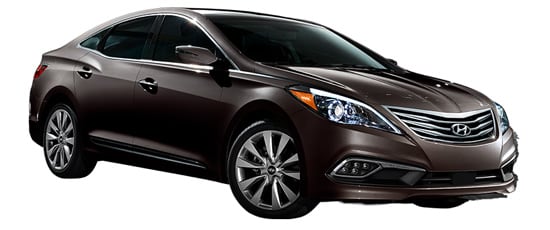 High-end luxury sedans aren't typically described as having intelligence, but the 2017 Hyundai Azera is no typical luxury sedan. Inside and out, it's equipped with a plethora of standard and optional smart features that make this Hyundai one smart buy. Here's a look at just some of the bright ideas Hyundai's engineers incorporated into this vehicle.

Intelligence That's Simple Common Sense
The 2017 Hyundai Azera's smart features aren't limited to technological advances. In addition to many sophisticated technologies, the sedan also boasts a number of details that are just basic common sense. For instance, engineers included:
the most passenger space of any vehicle in the class
a V6 engine that gets 28 highway mpg while producing 293 hp
Details like these might seem simple, but old-fashioned common sense shouldn't be overlooked. When driving the Azera day-in and day-out, you'll be glad there's space to stretch out, you won't have to spend much at the pump and there's a warranty should anything happen. It's good to have a practical and dependable car, even if it's a luxury sedan.
Driver-Assist Features That Monitor the Surroundings
On the exterior, a variety of sensors and monitors constantly monitor the 2017 Hyundai Azera's surroundings for potential hazards. The standard driver-assist features and aides include:
a rearview camera
blind-spot detection
rear cross-traffic alert
lane-change assist
In addition to these, the Limited trim adds on rear parking sensors, automatic high beam assist, lane departure warning and forward collision warning.
These driver-assist features aren't a substitute for vigilant and safe driving, but it's nice to know there's a smart digital copilot on board helping you when you're behind the wheel.
A Steering System That's Ahead of the Curve
The selection of driver-assist features is complemented by an advanced steering system that includes several important standard features. All 2017 Hyundai Azeras come with features like:
traction control
electronic stability control
vehicle stability management
tire pressure monitoring
None of these features should be overlooked, especially if you're driving around Milwaukee in the winter. When driving conditions deteriorate, systems like these help keep the Azera on the road and you in control.
A Cabin That's Both Advanced and Fashionable
The cabin of the 2017 Hyundai Azera has its own interpretation of smart, serving as a reminder that being smart isn't all about being a geek. With heated seats, proximity key entry and dual automatic climate control, the Azera certainly isn't lacking for advanced technologies. It also, however, brings out the fashionable sense of smart thanks to the leather upholstery, 14-speaker audio system and available panoramic sunroof.
In short, the Azera is both technologically advanced and chic. It's perfect for the quick-thinking and smart-dressing driver.
See Intelligent Automotive Design
When all of these different aspects are combined, the result is a truly marvelous and intelligent automotive design. It's something that must be viewed in person to fully appreciate.If you're interested in learning more about the 2017 Hyundai Azera, come see it at Hyundai West Allis.
Formerly Arrow Hyundai, Hyundai West Allis made its own smart move to become part of the International Autos Group. Thanks to IAG's resources, Hyundai West Allis now has superb access to Hyundai vehicles - including 2017 Azeras. Make the quick drive from Brookfield or New Berlin to 10611 W Arthur Ave. in West Allis and take one for a test drive. You'll be impressed with just how far ahead of its class this luxury sedan is.