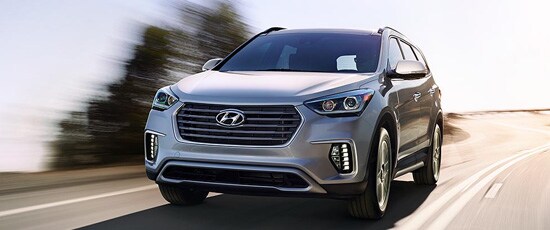 Ah, the good ole American road trip. Long distance travel across the United States (and maybe some forays just north of the border) is a must for every Wisconsinite who loves wide open spaces, historical sites, and meeting the many people who make this country so wonderful. But the first thing avid road trippers (or drivers who simply make frequent long distance trips away from their New Berlin home for work, family, or fun) need is a vehicle that can handle the rigors of frequent driving. A vehicle like the Hyundai Santa Fe available near New Berlin.
Two Very Important Reasons Behind Why the Hyundai Santa Fe is a Top Pick for Long Distance Milwaukee Travelers
1) Size and Space
Even just solo travelers are going to want some extra space. But that space shouldn't come at the cost of the vehicle feeling too large and unwieldy to handle, especially if part of your routine driving involves zipping along New Berlin neighborhoods and navigating Milwaukee's downtown streets.
The 2017 Hyundai Santa Fe is the perfect mix of being small enough to comfortably handle no matter the terrain and large enough to carry your extra camping gear, suitcases, and other cargo items. As many as six adults can fit comfortably in the Santa Fe Limited and Limited Ultimate Trims or upgrade to the SE or SE Unlimited for seven passengers.
Or nix the back seat passengers altogether and fold down the seats instead to enjoy as much as 80 cubic feet of cargo room. Or if you have your sights set on a little camper, daysailer, or jet skies, hook yourself up with a tow package and enjoy as much as 5,000 pounds of towage.
2) Driver & Passenger Comfort
To go back to the seating commentary for a moment, comfortable and variable seating is a must for long distance trips. When choosing a vehicle you plan on doing a lot of traveling in, always, always avoid those with relatively fixed and unsupportive seats as they will become painful and problematic on long or frequent commutes. Instead, you should search out vehicles with multiple seat adjustments, possible lumbar support, and seat fabric. Even seat color can be important as dark-colored seats can be uncomfortable during hot and sunny weather.
The 2017 Hyundai Santa Fe is once again built to please in this segment. The front driver's seat offers fore, aft, reclining, height, and lumbar support seat adjustments. For those long-distance drivers, there are a number of optional upgrades you should consider like heated and cooled front and rear seats, power driver's and front passenger's seats, and memory driver's seat. All of these are designed to enhance your driving experience. As far as seating materials, New Berlin buyers will have a choice of either stain-resistant standard cloth seats or upgrade to available leather seating surfaces that are a bit more attractive and comfortable.
Other important interior features and reasons why the Hyundai Santa Fe is such a great road traveler include satellite radio reception that connects to six speakers, a plethora of cupholders and small storage areas, and dual-zone automatic climate control that will keep everyone, no matter where they are seating, perfectly comfortable on their journey outside New Berlin.
Visit Hyundai West Allis Today to Learn More
Are you ready to hit the road and purchase that perfect long haul SUV? Come down and visit us today at Hyundai West Allis to take the 2017 Hyundai Santa Fe out for a test drive, or talk to our friendly representatives for recommendations on other roadworthy options, including used and Certified Pre-owned vehicle options!