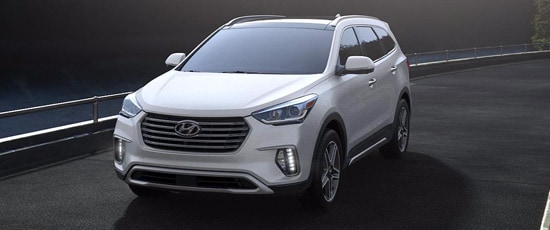 When looking for a family car, Hyundai is an excellent choice. Few other automakers offer the same combination of safety and value, and no other company has America's Best Warranty. Once you've decided to make your family's next vehicle a Hyundai, you'll find there are many great Hyundai vehicles to choose from. Here's how to go through that selection process.
Determine Your Family's Budget
Start by determining how much your family can afford to (or wants to) spend on a vehicle. Setting a budget at the outset will determine what Hyundai vehicles you'll look at, and it'll help your family remain within its price range.
How you should determine your family's budget depends on how you'll pay for the vehicle. If you're paying cash for a vehicle, your savings account balance will determine your family's budget. If you're financing a vehicle, use a payment calculator and pre-qualification application to see what price range you're able to qualify for.
Of course, you should also take into account any car that's being traded in for your family's next vehicle. If your family has a trade-in, an instant valuation will give you an idea how much the car's worth.
Decide New, Certified Pre-Owned or Pre-Owned
Based on your family's budget, decide whether to look at new, certified pre-owned or pre-owned Hyundai vehicles.
New models feature the latest technology and Hyundai's well-known warranty, but certified pre-owned models are themselves well-equipped and come with generous warranty coverage. Certified models also normally cost much less than new ones, providing even more value on already value-oriented vehicles.
Non-certified pre-owned vehicles are usually the most affordable and can be great family cars.
Select the Number of Seats
The next factor to consider is how many seats your family needs. Most Hyundai vehicles have at least five seats, and some offer seating for up to seven. The cars and small SUVs with five seats tend to offer better fuel economy and be easier to drive on crowded seats, but some families need the space that three rows afford.
When selecting how many seats your family's next vehicle needs, be sure to account not just for present needs but potential future needs as well. If more children will likely be on the way, you may want to make sure there's an extra seat or two. Additionally, your children might want to bring friends with them more often as they grow up. Those friends need seats, too.
Consider Cargo Room and Towing Capacity
The final major consideration is how much cargo room and towing capacity your family needs (or doesn't need). Think about what your family needs a vehicle for, and make sure the one you choose will offer enough space and power.
Check Out the Features
At this point, your family should have a short list of Hyundai vehicles that will meet the family's needs. All that remains is to test drive these vehicles and check out the features they come with. Any of the ones that remain in consideration should be good choices, so you're free to choose the one everyone likes best.
Compare Hyundai Vehicles
For help going through this process, make the short drive from Germantown or Sussex to Hyundai West Allis at 10611 W. Arthur Ave. in West Allis. Hyundai West Allis is now part of the International Autos Group, which gives the dealership access to a wide array of Hyundai vehicles. Come and compare the many different models available, and see which one will serve your family the best. Just be sure to bring everyone along so you can choose your family's next car together.