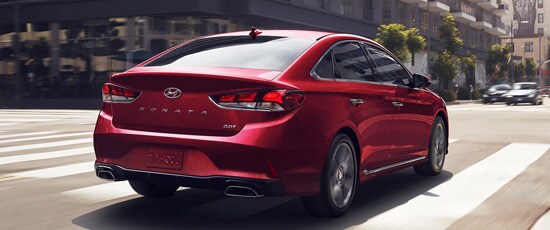 Like everyone else, retirees want vehicles that are affordable, reliable and fun to drive. These aren't all that seniors look for in cars, though. Features like large front doors, easy-to-read gauges, minimal blind spots and a rear-view camera make driving a vehicle easier.
Most of Hyundai's vehicles meet all of the above criteria and will serve retirees well, but a few models especially stand out. Here are four of the best Hyundais for retirees.
2016 Hyundai Sonata
The Hyundai Sonata is loved by everyone from college students to senior adults. It's combination of a generous interior space, solid fuel economy and large trunk for the class make the Sonata versatile. Retirees not only like the large front doors, but they also appreciate that the Sonata rides low so it's even easier to get in and out of.
While a new Sonata will serve retirees well, a certified pre-owned 2016 Hyundai Sonata offers even better value. Certified pre-owned models are priced thousands of dollars lower than new models, yet they still come with generous warranties. Additionally, the Sonata was last redesigned in 2016 so there's little difference between the 2016 and 2018 Hyundai Sonata.
2018 Hyundai Sonata Plug-In
For retirees who'd like a fuel-efficient plug-in hybrid, the 2018 Hyundai Sonata Plug-In is a natural choice. As mentioned, the features differ little from the 2016 Sonata Plug-In.
New Hyundai plug-in hybrids, however, come with a lifetime/unlimited mileage battery warranty for the first vehicle owner so drivers don't have to worry about the battery wearing down. This is one of the few protections that don't come with certified pre-owned Hyundais.
2018 Hyundai Tucson
The 2018 Hyundai Tucson branches into SUV territory, but it hardly drives like an SUV. The compact size minimizes blind spots and navigating even crowded city streets a breeze. A rear-view camera comes standard on all 2018 models, which is a great help when backing up.
As a compact SUV, the Tucson is perfect for retirees who want to sit higher or have an active lifestyle. It's rear seat and cargo area are versatile, yet it's not near the size of a large SUV.
2018 Hyundai Santa Fe
For retirees who want an SUV that can do everything, the 2018 Hyundai Santa Fe has a lot to offer. With seating for up to seven and a maximum towing capacity of 5,000 pounds, this SUV is equally well-suited for towing a boat to the lake or driving all the grandkids to get ice cream.
As a full-size SUV, the Santa Fe is larger than the Tucson. When fully equipped with a rearview camera, blind spot monitors and rear parking sensors, however, the SUV becomes quite easy to drive.
Find Your Retirement Car or SUV
To find a Hyundai that will serve you well during retirement, come see the selection at Hyundai West Allis. Now part of the International Autos Group, Hyundai West Allis has a large selection of vehicles. These top Hyundais for retirees are just some of the many cars, crossovers and SUVs on their lots. Make the short drive from New Berlin or Glendale to 10611 W. Arthur Ave in West Allis, and see everything they have to offer. Take these models (and others) for test drives, and see these great Hyundais for retirees yourself.