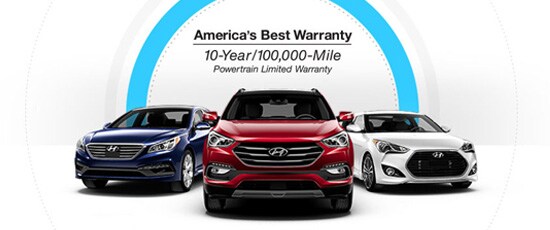 As you drive your brand new Hyundai out and about New Berlin or West Allis, you may encounter a few issues. Warranty work, while not ideal, does come up sometimes. Thankfully, when you purchase a new Hyundai in West Allis, you enjoy one of the best possible automotive warranties in the country. To learn more about what's covered by Hyundai warranties and other popular questions, check out this list of frequently asked questions:
The Answers to 4 FAQs About Hyundai Warranties
What's with the five-year warranty?
Hyundai was the first American auto manufacturer to introduce the 5-year warranty, having done so back in 2002. While a few other automakers have followed suit, we remain proud that our team was the first to do so and was capable of doing so as it reflects our confidence in the quality and reliability of all Hyundai vehicles. Our drivers know that when they purchase a Hyundai, they receive the best in after–sales service and years of trouble free driving.


What all does the 5-year/60,000 mile new vehicle warranty cover?
This new vehicle limited warranty covers the repair and replacement of any vehicle component that was either manufactured or originally installed by Hyundai and was defective or failed under the driver's normal use and maintenance. Plus, in addition to this coverage, new Hyundai owners will also enjoy a 10-year/100,000 powertrain coverage and a seven-year corrosion warranty that once again proves Hyundai warranties are arguably the best in the business.


If I do my own regular service (i.e. oil changes) will it void my warranty?
While we suggest you take your Hyundai to us when the time comes for routine service needs like oil changes and fluid fill-ups, doing so on your own will not void your warranty so long as you keep proper records and stay close to Hyundai or Hyundai-recommended products. This means both writing down the dates and type of work done as well as keeping receipts. The extra organized should also consider keeping track via an Excel spreadsheet or similar program.


How does the Roadside Assistance Program work?
Even if you meet all of your scheduled service visits and ensure your vehicle is properly cared and maintained, disaster may still strike. And when it does, it seems it often does so in the most inconvenient places and at the most inopportune times. Thankfully, as part of the Hyundai warranties package you get five years of unlimited roadside assistance. Effective from the day you first drive the vehicle off of our West Allis Hyundai dealership near New Berlin, this roadside assistance comes with some really great perks. First, if you break down or otherwise need assistance, you can call 1-800-243-7766 and talk to a person 24/7 who will get you the immediate assistance you need. Roadside assistance includes towing your vehicle to the nearest dealership or authorized service facility and, in the event the problem is a warrantable mechanical issue, reimbursement for travel costs and a rental vehicle while your Hyundai is being repaired.
Contact Hyundai West Allis to Learn More About Hyundai Warranties
For more information about Hyundai warranties, including the special warranty offered for Certified Pre-Owned Hyundai models, contact us today at Hyundai West Allis. Or if you need service or part replacement, our service team is always here and happy to help no matter whether you purchased your Hyundai through us or someone else. Visit us today to check out our extensive parts selection and meet the reputable service technicians who'll take care of your vehicle. We're located along Arthur Ave in West Allis, just a jump from New Berlin!