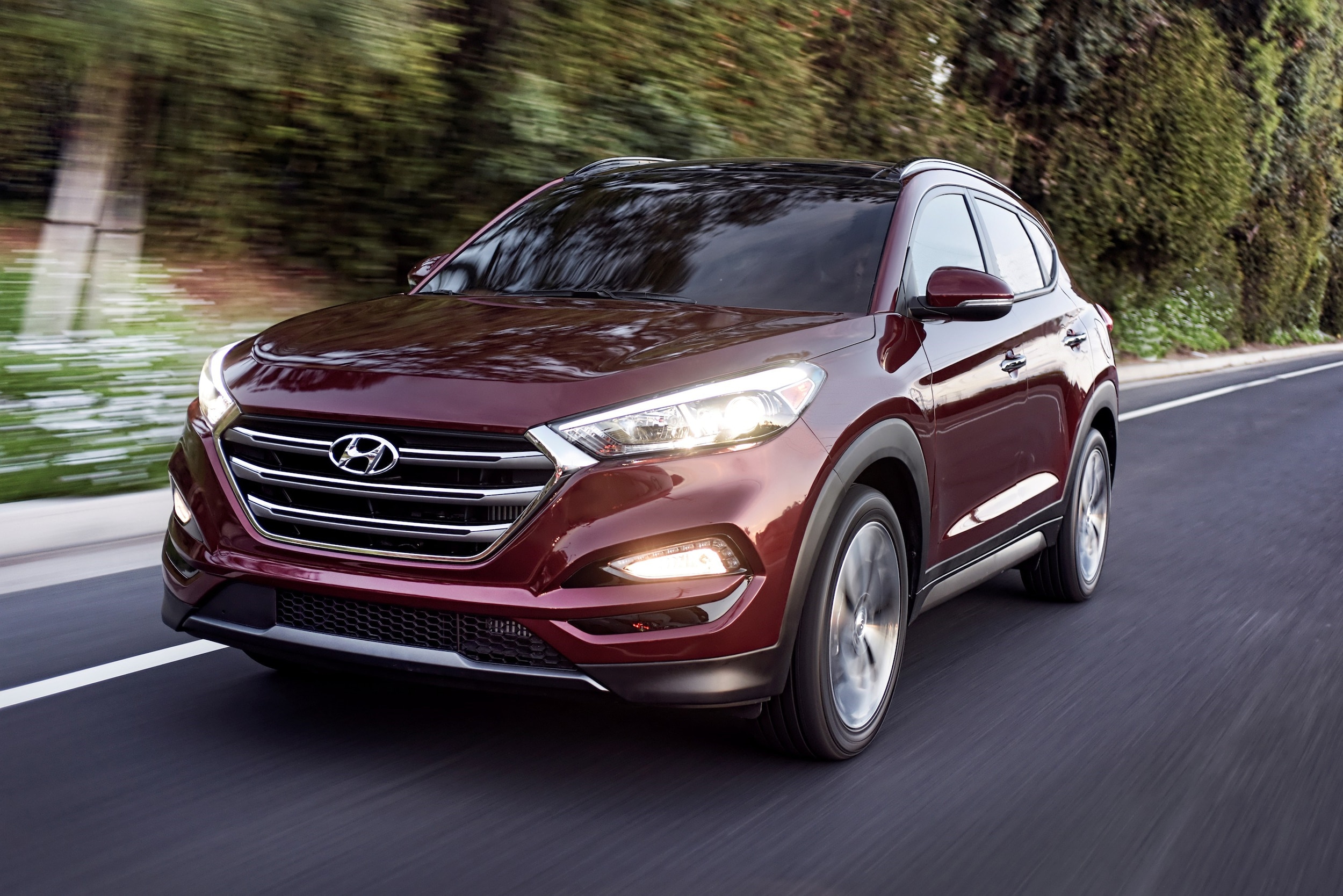 All-wheel traction provides peace of mind when road conditions deteriorate, and the extra traction is almost a must-have for anyone who regularly drives on snowy, muddy or otherwise slippery paths. Hyundai not only offers several Hyundai models with available all-wheel drive, but the automaker also has developed one of the most advanced all-wheel-drive systems in existence for the Genesis brand.
SUVs with Available All-Wheel Drive
Hyundai's traditional all-wheel-drive system improves upon past four-wheel drive technology be individually determining how much power to send to each wheel. Rather than evenly distributing torque to each wheel, more power is sent to the wheel(s) with the best traction. As wheels gain and lose traction, the power ratio is adjusted to provide the most stability in all conditions.
This all-wheel-drive system is available on all of Hyundai's currently offered SUVs -- the Tucson, Santa Fe Sport and Santa Fe. It'll also be offered on at least some (if not all) of Hyundai's forthcoming SUVs that will be released this year and next.
HTRAC Technology in Genesis
Genesis, Hyundai's high-performance brand, features even more advanced all-wheel drive. The proprietary HTRAC system further improves on individualized torque distribution by sending power to wheels based on both road conditions and desired performance.
In Normal mode, HTRAC sends power to wheels so that stability and balance are maximized no matter the road conditions. In Sport mode, up to 90 percent of the power is sent to the rear wheels to deliver rear-wheel-drive exhilaration. Sport is best reserved for dry pavement and sunny days, but when it's activated a Genesis model will corner just like a classic rear-wheel-drive sports car.
Depending on conditions and desired performance, drivers can alternate between Normal and Sport modes as they like.
Explore Hyundai's All-Wheel Drive
Many drivers in Milwaukee appreciate the benefits that all-wheel drive offers, especially in winter. And, there's one place to go in the area to see Hyundai vehicles that have available all-wheel drive. If you're in Waukesha, Menomonee Falls or Wauwatosa, make the quick drive to 10611 W Arthur Ave, West Allis and see the selection of all-wheel drive Hyundai vehicles at Hyundai West Allis.
Hyundai West Allis is now connected with the International Autos Group. IAG has dealerships throughout Wisconsin and nearby states, and Hyundai West Allis is able to carry a large selection of Hyundai vehicles thanks to IAG's resources. Stop by, and experience the benefits of Hyundai's all-wheel drive.