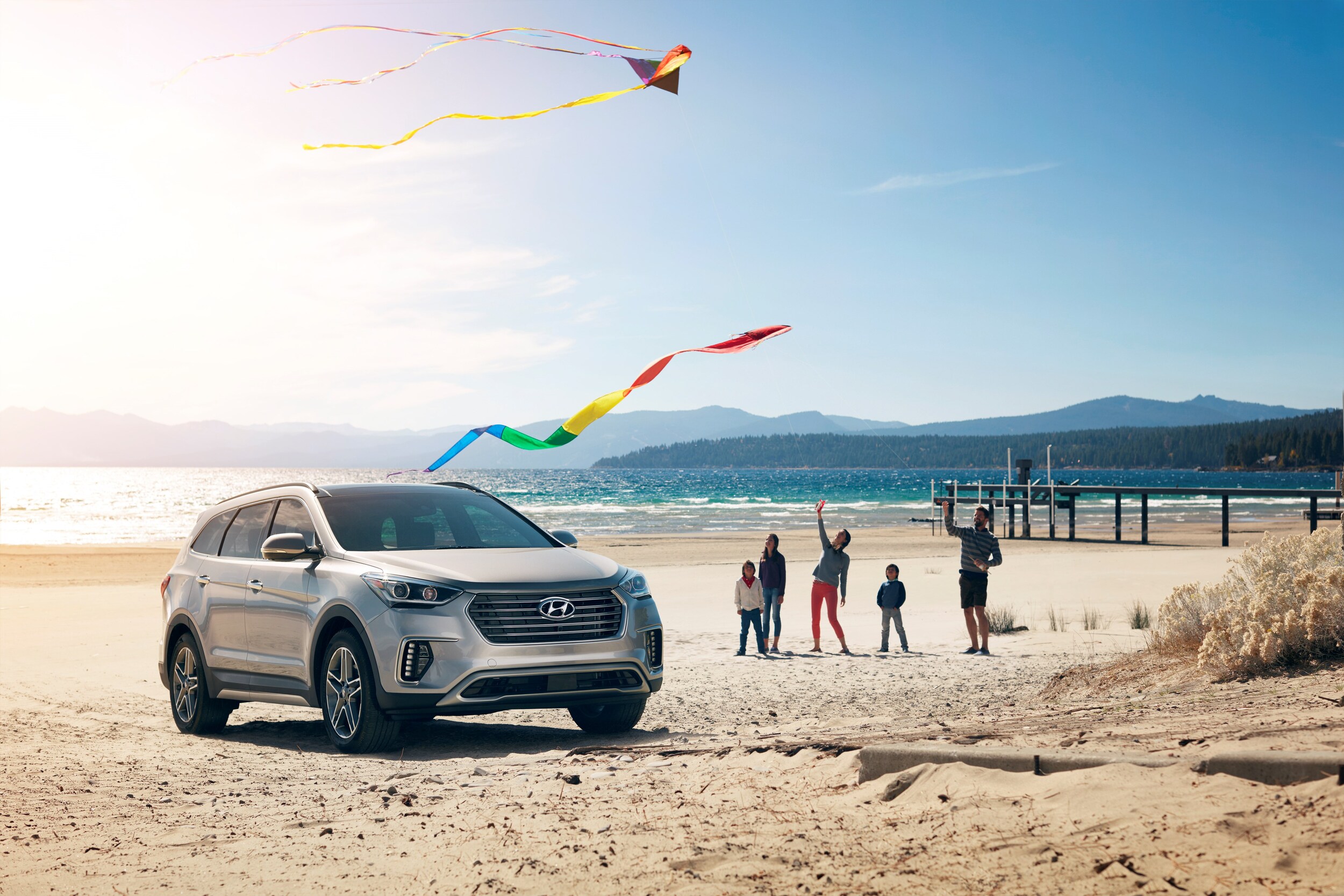 For families that need three rows of seats, there's one Hyundai SUV that casts a shadow over all other competition. The Hyundai Santa Fe offers roomy first-, second- and third-row seats, and interior passenger room is just one of the SUV's many highlights. If you're looking for a vehicle that can seat six or seven, here's some of what a new or pre-owned Hyundai Santa Fe offers.
Room for the Family and Friends
Most families first look at the Hyundai Santa Fe because of the seating it offers. With three rows of seats, there's room for both everyone in the family and a few friends. Depending on the second-row configuration chosen, the SUV will seat six or seven. (Seating capacity is six with the available second-row captain's chairs.)
Not only does the Hyundai Santa Fe seat everyone, but it manages to do so comfortably. The 2018 Santa Fe's 160 cubic feet of interior space is more than the Toyota Highlander, Dodge Durango or Mazda CX-9 offer. Likewise, the Santa Fe also has more third-row legroom than the Highlander, CX-9 and Nissan Pathfinder. Santa Fes from previous years might have slightly different measurements, but they're similarly spacious.
Space and Power for All Your Stuff
When necessary, the Santa Fe easily and quickly converts to carry stuff -- and lots of it. The rear seatbacks fold fully down to maximize space, providing 80 cubic feet of cargo capacity. That's enough space for furniture, dorm room essentials or essential sports equipment.
Should you need to bring both stuff and people, the Santa Fe is still well-equipped for the task at hand. Leave the seat backs up to fit everyone, and attach a trailer behind for everything. The 2018 Santa Fe has a 3.3-liter V6 that's capable of towing up to 5,000 pounds, and the solid SUV chassis can support all of that weight.
Mid-Size for Greater Maneuverability
Somehow, the Santa Fe manages to offer all of this space without being a full-size SUV. It's just a mid-size model, even though its the larges of all Hyundai vehicles. Being just a little smaller than full-size SUVs makes driving much easier. Whether maneuvering around Milwaukee's crowded city streets, trying to fit in a crowded parking space or going down a narrow dirt road, being just a little bit smaller without sacrificing interior space is helpful.
See Many Santa Fes (And Other Hyundai Vehicles)
To see and test drive a variety of Hyundai Santa Fes, visit Hyundai West Allis at 10611 W. Arthur Avenue in West Allis. Still your local Hyundai dealership, Hyundai West Allis is now part of the regional group International Autos Group. As an IAG member, Hyundai West Allis has unprecedented access to Hyundai vehicles and is able to carry a large inventory in stock. Stop by, and you'll see many new, certified pre-owned and pre-owned Santa Fes (and other Hyundai vehicles) ready to be test driven.