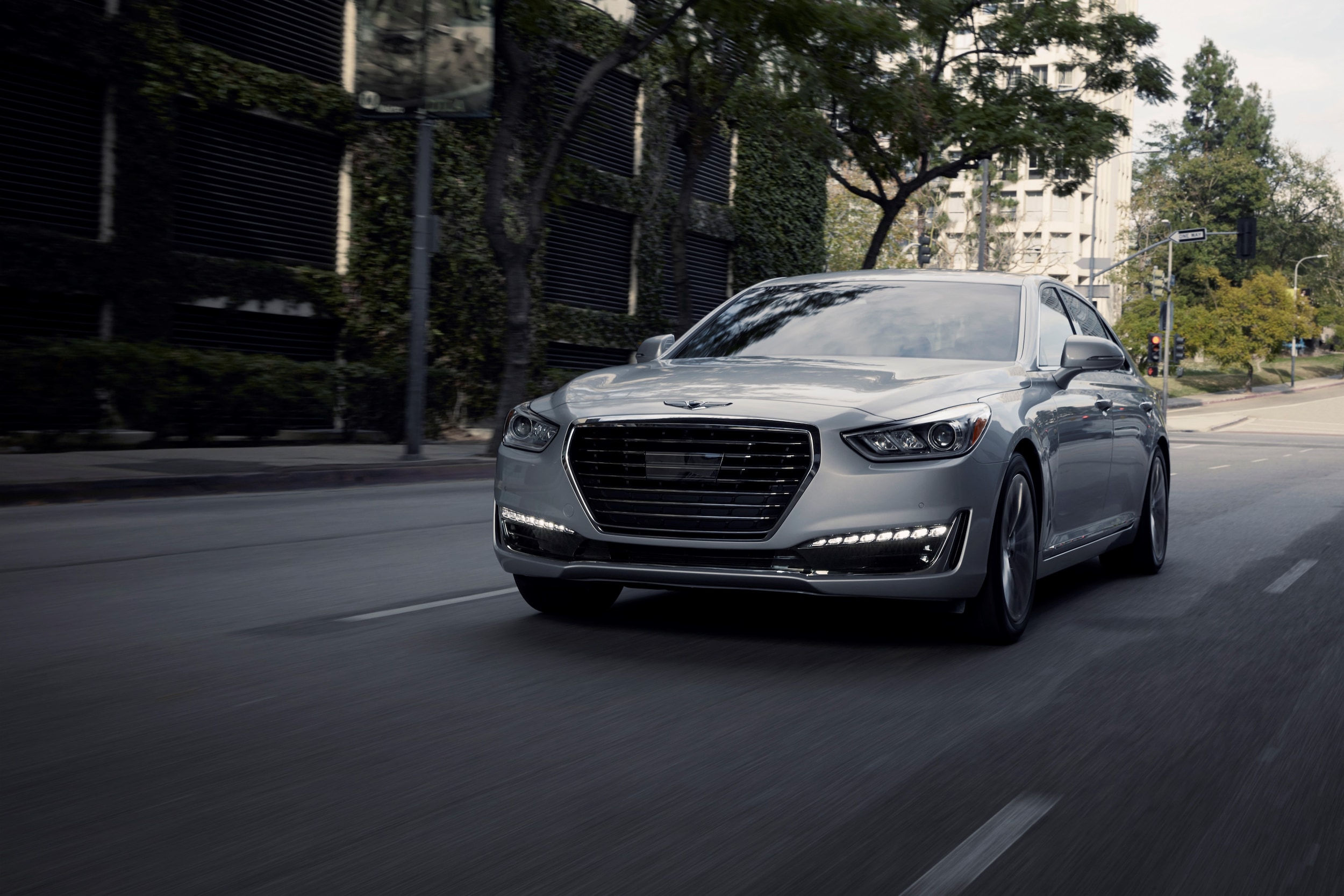 The Hyundai Genesis is so-named because it was Hyundai's first entry into the luxury market, and the company's entry made a splash. The Hyundai Genesis was so well-received that it has since been transformed into its own brand -- Genesis. The Genesis lineup continues to provide quality craftsmanship at a great price, but nothing can rival the combination of luxury and value that used Hyundai Genesis models offer.
True Luxury Car Quality
The Hyundai Genesis is a true luxury car, and not just because it bears fancy emblems that say so. In fact, Dan Neil (a car critic) noted the absence of brand emblems when the car was first launched. In a move that Neil said "subverts the grammar of luxury," Hyundai showed they didn't think decals should define what a luxury car is. Instead, it should be the car's features.
When it comes to features, the Hyundai Genesis isn't lacking. Exact features vary depending on year, trim and packages, but there are plenty of highlights that all used Hyundai Genesis models feature.
A V6 or V8 engine provides enough power to reach 60 mph in less than 6 seconds.
Rear-wheel drive delivers an old-school driving experience, while all-wheel drive offers superb traction.
Leather upholstery, heated front seats, keyless entry, remote start and multi-zone climate control are standard on all models.
Many models have navigation and driver-assist features.
This is just a sampling of what a used Hyundai Genesis may be equipped with. In addition to these, there are many more standard features and a plethora of available ones.
Value-Oriented Price
In addition to redefining what it means to be luxury, the Hyundai Genesis also redefined the price range for luxury cars. While there continue to be other makers' models that push six figures and above, the Hyundai Genesis opened the door for value-based luxury. New Hyundai Genesis models have always provided luxury at a price that everyday people can afford.
While the Hyundai Genesis has long provided good value, it's the used Hyundai Genesis models that are now available which really showcase the brand's value. Being used cars, they're priced well below their initial MSRPs yet they lack none of the luxury features. By opting for a used model, drivers can get everything that a luxury car should offer at a price that to date has been unseen in the segment.
Hyundai Reliability
Perhaps most importantly, drivers can take advantage of the luxury and value that Hyundai Genesis models offer without unnecessary worry. These are Hyundai vehicles, which means they're built by one of the most reliable automakers in the world. Unlike other luxury vehicles, the Hyundai Genesis doesn't have a reputation for malfunctioning.
For even more reassurance, drivers can shop for a certified pre-owned Hyundai Genesis. Hyundai's certified pre-owned program only certifies cars that meet stringent requirements and pass rigorous inspections, and the program provides a host of warranties just in case. With this reassurance, driver's can get luxury, value and peace of mind.
Check Out Used Hyundai Genesis Models
To find a used Hyundai Genesis, make the short drive from Waukesha or Menomonee Falls to Hyundai West Allis. Formerly Arrow Hyundai, Hyundai West Allis is still located at 10611 W. Arthur Ave. in West Allis. It's now part of the well-known International Autos Group, though.
The new affiliation with IIAG gives Hyundai West Allis unprecedented access to used and certified pre-owned Hyundais. Stop by, and let the sales team show you one of the used Hyundai Genesis cars that are currently available. You'll see why so many drivers like the model's combination of luxury and value.